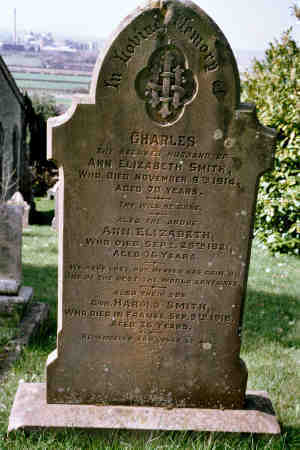 Ann Elizabeth
(Abt 1845-1921)
Ann Elizabeth 1
Born: Abt 1845 1
Marriage: Charles SMITH
Died: 25 Sep 1921 aged about 76 1
Buried: South Ferriby, Lincolnshire, England, United Kingdom 1

Other names for Ann were Mrs. Ann Elizabeth SMITH and Mrs. Charles SMITH.

User ID: P00019517.

Ann married Charles SMITH. (Charles SMITH was born about 1844,1 died on 9 Nov 1914 1 and was buried in South Ferriby, Lincolnshire, England, United Kingdom 1.)

Sources
---
1 Gravestone of, Photo CD 4635 Pic 0-06-5A.

---
Home | Table of Contents | Surnames | Name List
This Web Site was Created 19 Dec 2009 with Legacy 7.0 from Millennia